Posts for tag: oral health
By Ultra Dental
May 23, 2018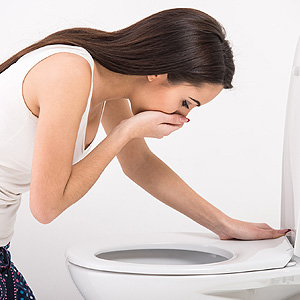 Sometimes dental conditions point to health problems beyond the teeth and gums. An astute dentist may even be able to discern that a person's oral problems actually arise from issues with their emotional well-being.  In fact, a visit to the dentist could uncover the presence of two of the most prominent eating disorders, bulimia nervosa or anorexia nervosa.
Here are 3 signs dentists look for that may indicate an eating disorder.
Dental Erosion. Ninety percent of patients with bulimia and twenty percent with anorexia have some form of enamel erosion. This occurs because stomach acid — which can soften and erode enamel — enters the mouth during self-induced vomiting (purging), a prominent behavior with bulimics and somewhat with anorexics. This erosion looks different from other causes because the tongue rests against the back of the bottom teeth during vomiting, shielding them from much of the stomach acid. As a result, erosion is usually more severe on the upper front teeth, particularly on the tongue side and biting edges.
Enlarged Salivary Glands. A person induces vomiting during purging by using their fingers or other objects. This irritates soft tissues in the back of the throat like the salivary glands and causes them to swell. A dentist or hygienist may notice redness on the inside of the throat or puffiness on the outside of the face just below the ears.
Over-Aggressive Brushing. Bulimics are acutely aware of their appearance and often practice diligent hygiene habits. This includes brushing the teeth, especially after a purging episode. In doing so they may become too aggressive and, coupled with brushing right after purging when the minerals in enamel are softened, cause even greater erosion.
Uncovering a family member's eating disorder can be stressful for all involved. In the long run, it's best to seek out professional help and guidance — a good place to start is the National Eating Disorders Association (www.nationaleatingdisorders.org). While you're seeking help, you can also minimize dental damage by encouraging the person to rinse with water (or a little baking soda) after purging to neutralize any acid in the mouth, as well as avoid brushing for an hour.
If you would like more information on the effect of eating disorders on oral health, please contact us or schedule an appointment for a consultation. You can also learn more about this topic by reading the Dear Doctor magazine article "Bulimia, Anorexia & Oral Health."
By Ultra Dental
March 29, 2018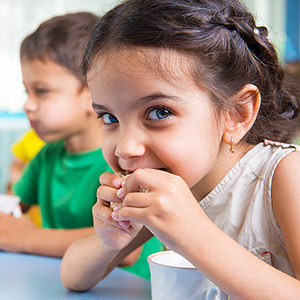 Good nutrition is essential for your child's developing teeth and gums as well as the rest of their body. You do what you can to provide them not just nutritious meals but also healthy snacks for other times of the day.
But once they begin school, you can't watch out for them all the time. They could be away several hours where they might be tempted to make unhealthy snack choices.
What can you do to lessen their chances of unhealthy snacking at school?
Engage with the school and their snack offerings. A set of U.S. Department of Agriculture regulatory guidelines called Smart Snacks in Schools sets minimum nutritional standards for snacks offered on school grounds. These guidelines promote whole grains, fruits, vegetables and low-fat dairy products and limit calories, fat, salt and, of particular importance to dental health, sugar. The guidelines, though, are only a minimum, so join with other parents to encourage your school to exceed those snack nutrition minimums whenever possible.
Educate your child about nutrition. Good nutrition starts at home: it's important not only to offer wholesome foods but to also teach your child why some foods are better for their body (and their teeth) than others. By encouraging a lifestyle of healthy eating both in practice and knowledge, you'll find it easier to set limits on their snack choices away from home.
Send snacks with them to school. If you're unsure your child will make the right choices, especially if they're young, than send snacks with them to school. Be sure, though, what you're sending is as appealing as the school choices. Try a little creativity: popcorn with a zing of cinnamon or cheese; decorative snacks; or easy to eat bite-sized fruit or vegetables. The more they like what you're sending, the less likely they'll choose something else.
In some ways snacking could be the Achilles' heel in providing your child the right foods for good dental health. By following the tips above, though, you can help raise the chances they'll eat the best snacks for strong teeth and gums.
If you would like more information on nutrition and dental health, please contact us or schedule an appointment for a consultation. You can also learn more about this topic by reading the Dear Doctor magazine article "Snacking at School."
By Ultra Dental
March 14, 2018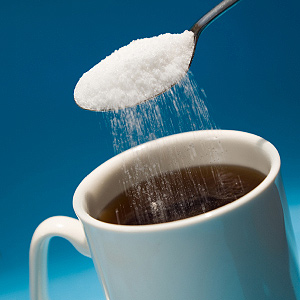 Although a variety of foods provide energy-producing carbohydrates, sugar is among the most popular. It's believed we universally crave sugar because of the quick energy boost after eating it, or that it also causes a release in our brains of serotonin endorphins, chemicals which relax us and make us feel good.
But there is a downside to refined sugars like table sugar or high-fructose corn syrup: too much in our diets contributes to conditions like cardiovascular disease, diabetes, and dental disease. On the latter, sugar is a primary food source for oral bacteria; the more sugar available in the mouth the higher the levels of bacteria that lead to tooth decay and gum disease.
Moderating your intake of refined sugars and other carbohydrates can be hard to do, given that many processed foods contain various forms of refined sugar. A diet rich in fresh fruits and vegetables helps control sugar intake as well as contribute to overall health. Many people also turn to a variety of sugar substitutes: one study found roughly 85% of Americans use some form of it in place of sugar. They're also being added to many processed foods: unless you're checking ingredients labels, you may be consuming them unknowingly.
Sugar substitutes are generally either artificial, manufactured products like saccharin or aspartame or extractions from natural substances like stevia or sorbitol. The good news concerning your teeth and gums is that all the major sugar substitutes don't encourage bacterial growth. Still, while they're generally safe for consumption, each has varying properties and may have side-effects for certain people. For example, people with phenylketonuria, a rare genetic condition, can't process aspartame properly and should avoid it.
One alcohol-based sweetener in particular is of interest in oral care. A number of studies indicate xylitol may actually inhibit bacterial growth and thus reduce the risk of tooth decay. You can find xylitol in a variety of gum and mint products.
When considering what sugar substitutes to use, be sure you're up to date on their potential health effects for certain individuals, as well as check the ingredients labels of processed foods for added sweeteners. As your dentist, we'll also be glad to advise you on strategies to reduce sugar in your diet and promote better dental health.
If you would like more information on your best options for sweeteners, please contact us or schedule an appointment for a consultation. You can also learn more about this topic by reading the Dear Doctor magazine article "Artificial Sweeteners."